not only WordPress keyword Tool works as WordPress keyword suggestion tool which will help you know keywords people are using to search so that you can target, it also will help you target these keywords the right way by checking keyword density ensuring that your article is search engine friendly and keyword optimized.
Key Features
Keyword list. WordPress Keyword Tool works as a wordpress keyword research plugin that lists most used keywords for any specified keyword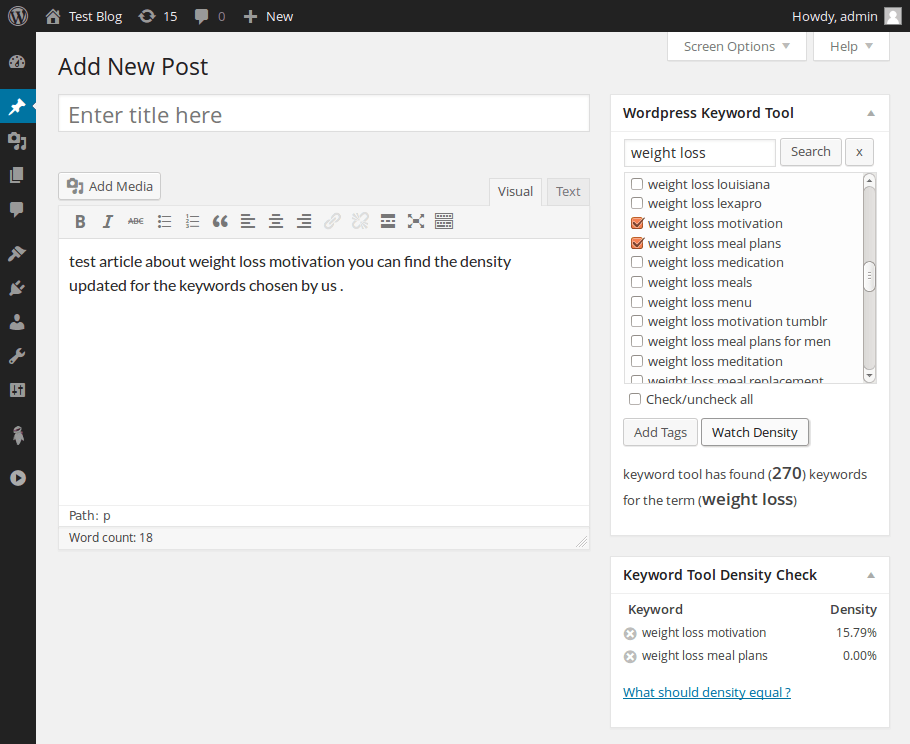 Add keywords as tags. if you wanna use the relative keywords as tags simply check keywords and add as tags
Watch density. WordPress keyword tool works as a WordPress keyword density plugin just specify what keywords to watch density and WordPress keyword tool will check it's percentage on the post helping reaching best density using WordPress keyword density checker.
in-time suggestions. while you write the keyword to get relative keywords suggestions will appear to choose from by wordpress keyword generator
in-time density values. as a wordpress keyword density monitor it calculates values instantly saving your time so it is the best wordpress plugin for keyword density
All languages are supported. as a quality wordpress keyword search plugin it now supports all languages
All Google sites are supported. you can set what Google site the plugin uses to get keywords from so it is the right WordPress keyword plugin for google
Responsive 100% ajax wordpress seo keyword research plugin
Visit main page of WordPress Keyword Tool
Changelog
- Version:2.3.3 (14 August 2020)
Fix: Updated to work with WordPress 5.5

- Version:2.3.2 (6 December 2019)
Fix: Compatible with PHP 7.3

- Version:2.3.1 (26 November 2018)
Fix: Latest version of Yoast SEO conflicted with the plugin and caused it to stop working, now sorted.

- Version:2.3.0 (27 August 2018)
NEW: Gutenberg support
Fix: Minor UI fixes

- Version:2.2.0 (5 May 2017)
NEW: custom post types support
NEW: add tags now works with any post type

- Version:2.0.1 (11 August 2014)
SSL/HTTPS support

- Version:2.0.0 (3 FEB 2013)
Addes support for all languages

- Version:1.0.5 (16 OCT 2013)
bug fix : checked items now get added as tags without problem
bug fix : checked items now get watched as density without problem

- Version:1.0.0 (16 AUG 2012)
Initial release
Download "Wordpress Keyword Tool"

wordpress-keyword-tool-2.3.3.zip – Downloaded 216 times – 787.91 KB